Shiv (Infinite) Yog (Merge) is the process of merging with the Infinite. Every individual has the immense potential and the power to create a life of their choice, to heal themselves of all ailments and to live in happiness & fulfilment.
Shiv Yog meditation practices are ancient techniques, that acquaint the individual with their latent potential and enable them to live a 200% life – 100% worldly and 100% spiritually. An individual is therefore, able to live a complete and fulfilled life.
---
Navraatri Celebrations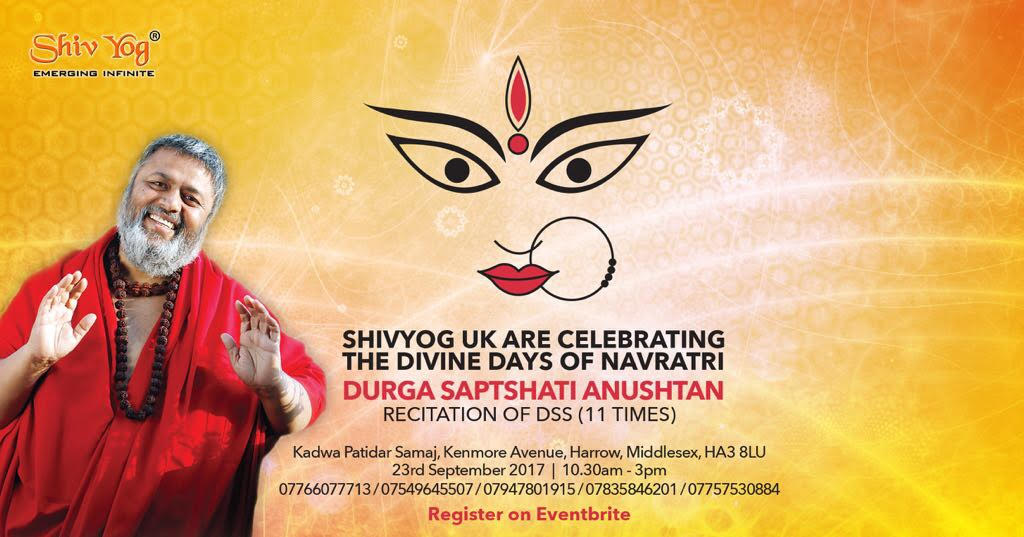 As we embrace the changing colours of autumn and welcome Navraatri festival, starting on Thursday 21 September 2017, may we all get a moment to reflect on the significance and importance of Navraatri. This auspicious 9-day period highlights the importance of connecting, meditating and revering Shakti or 'Maa' in nine different forms of energies.
ShivYog UK warmly invite you, your family and friends to celebrate the divine days of Navratri on Saturday 23 September 2017. You will get an opportunity to connect with the most powerful energies of the Divine Mother, which are at a peak during this time.
Two special events are taking place, one, in London and the other, in Leicester. Details are given below:
London
Durga Saptashati Anushtan (11 recitations of Durga Saptashati)
Venue: Kadwa Patidar Samaj, Kenmore Avenue, Harrow, London, HA3 8LU
Time: 10.30am to 3pm
Please register on Eventbrite http://shivyogdssmiddlesex.eventbrite.co.uk
Leicester
Shree Vidya Saptshati, live streaming from India
Venue: Santosh Day Centre, 2 Wingfield Street, Leicester, LE4 5DS
Time: 4:00 pm to 6:30 pm
Registration:
Please register on Eventbrite: http://shivyogsvsleicester.eventbrite.co.uk
---
January 2018 Shivirs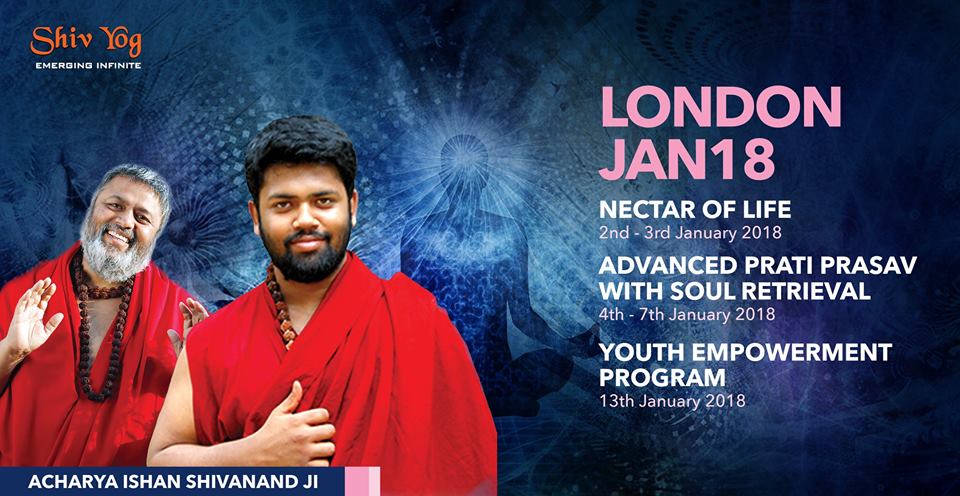 Next year, in January 2018, Acharya Ishan Shivanandji will be gracing us with 2 shivirs and a youth programme, what a great way to start the New Year! The first shivir will be a 2 day Nectar of Life shivir (open to all) from Tuesday 2nd to Wednesday 3rd January followed by the very special higher level shivir of Advance Intensive Prati Prasav from Thursday 4th to Sunday 7th January. Further details on the shivirs will follow shortly. The highly anticipated youth programme will be organised on Saturday 13th January. Ishan Ji is very motivated to transform the lives of the youth so please ensure your children benefit from the opportunity to learn from him.
---
Shiv Yog Forums

The Shiv Yog international forum is a weekly meetup that allows Babaji to reach out to existing and new practitioners of Shiv Yog through a pre-recorded video specially created for the session. Each week features a combination of guided meditations, chanting, breathing exercises and extracts from Babaji's 'words of wisdom', delivered during shivirs or special recordings.