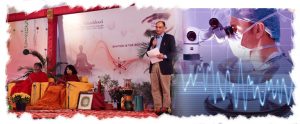 Today, medical science is at a crossroads with a plethora of challenges confronting it, most of all being genuine cure to chronic diseases rather than merely symptomatic cure. The medical fraternity has thus woken up to the wonders of holistic healing of Shiv Yog which holds the promise of being the perfect complement to the conventional medicine in the sense that it effects complete cure to an individual, healing not only at the physical level but also at the emotional, mental and spiritual level. Baba ji has devised a dedicated curriculum for the medical practitioners which seeks to combine the modern treatment with the traditional systems of healing to usher in good health, completeness in life and a wholesome living.
Baba ji says that doctors are good Samaritans and so deserve to receive the most powerful of Shiv Yog healing modalities. He has thus envisioned them to be empowered as a medicine themselves giving birth to the phrase "Doctor as a medicine". So, aside from administering the regular pharmaceuticals, healing will also be effected by the mere presence of the doctor.
Doctors have learnt innovative holistic healing techniques such as how to turn clinics into healing centres so that treatment starts the moment a patient enters the premises of the clinic.
The medical practitioners who have combined Shiv Yog in their practice have reported tremendous outcomes especially with chronic ailments.