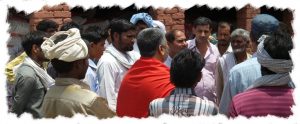 If there is cross section of society which has never got it's due, its the farmers. This despite the fact that the country happens to be largely an agrarian one and the economy heavily dependent on the primary sector of growth, driven by agriculture, dairy etc. Baba ji woke up to the fact that the practices of Shiv Yog have an immense power to transform the way agriculture is seen and practiced in the country. He has devised a simple and easy to practice framework for the cultivators, crop scientists and farmers which aims to achieve numerous objectives such as enhancement the quality of produce, increasing the crop productivity, improving the lives of producers and consumers and undo the effect of fertilizers among other objectives through holistic healing mechanisms  Madhya Pradesh which has been the first state off the blocks in utilizing Shiv Yog into farming practices has reported tremendous results in terms of a nutritious yield, high yield and greater returns for the same inputs.
Holistic Agriculture helps consumers
By producing organic food the consumers are saved from the harmful effects of chemicals and vulnerability to deadly diseases.
Know More
Watch the amazing results
Farmers, agriculturists and researchers are amazed at the amazing results on crops, cattle and fields.
Watch them