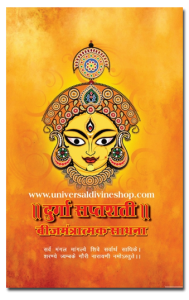 The Shiv Yog Durga Saptashati (DSS) book is an easy to understand summary of the Shiv Yog DSS programme which a practitioner uses to perform his daily meditation after learning the sadhna from Baba ji in a DSS initiation shivir. The book intially has an introduction on Baba ji and his tryst with the worship and meditation on the Goddess. Then comes the overview of the DSS sadhna. What is it and who all practiced it, to what effect and other useful information. The main content of the book however are the Beej mantras, divided into three units and a total of 13 chapters. The Beej Mantras are celestial sounds which have the power of the complete scripture condensed into divine syllables, reciting which one reaps tremendous benefits as elaborated in the benefits section. The book also has odes to the Guru, to the Goddess and to the Supreme God. The book must be kept with utmost reverence ata sacred spot, preferably wrapped in a red cloth and must never be kept on the floor.
To order the book online  I want to order the DSS Book online 
DSS HELPLINE NUMBERS FOR INDIA
Need more help?
What is Durga Saptshati?
How the DSS is Powerful
The Benefits of DSS
How do I organize a DSS event?
How do I receive DSS Deeksha?
Where can I attend a DSS Shivir?
DSS India Helpline
The DSS Daily Sadhna Book
Jyotse Jyot Jagao – Share the Flame
About Babaji's Sacred Work