Dr. Shivanand and Guruma have spent a major part of this incarnation together, blending as the Shiva and Shakti on the physical realms. The divine pair of Unconditional Love are the foundation of the Foundation – Shiv Yog.
Dr. Shivanand and Guruma took the nuptial vows at a very young age, when Dr. Shivanand was focused well on His raring to proceed ahead with his spiritual life. With the commitment that He made, He very well shared with Guruma His mission in life of going into deeper sadhna after a certain age. As mentioned to Her, when His life reached the destined milestone, He told Guruma that it was time for Him to go for deeper sadhna, to which she was taken aback but this was something Dr. Shivanand had told Maa quite early. Dr. Shivanand was pleasantly surprised when he unexpectedly heard Maa ask if ask if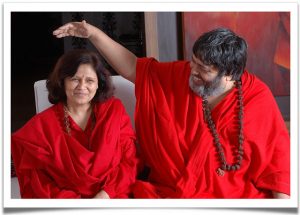 she could join Him in His pursuit. Thereon, both of them pursued with the beautiful blend of nourishing and rearing up their two children – Acharya Ishan and Geentanjali and also spending time in spiritual practices and service.
Dr. Shivanand often recalls the times when He was inspired and guided by His master to feed children and the poor. They both began working for it by bringing the ingredients and vegetables and cooking food themselves and serving whomever they could. Slowly the number began to increase in their locality and a day came when they found their hands were falling short in this selfless act. Soon cooks were hired and a larger scale of bhandara was taking shape, much on the guidance of His master and blessings. Eventually, the feeding of many more were made possible by Divine grace and them meeting every need to fulfill such a huge task. Today, the seed of their selfless service to mankind has grown into a huge tree with it's branches spread out all over the world, the fruits of which reaches thousands of poor people and children around the world in the form of daily food, refreshments along with care of their other basic needs.
Dr. Shivanand supported Guruma in every way to begin an animal shelther for the hapless cows and built a beautiful heaven for them in a place near Alwar, Rajasthan. A large open barren land, which also happens to be the tapobhoomi (land of penance) of Dr. Shivanand, was cultivated with great efforts and hard work, which now is a green lush open field where cows graze. They are not tied but let loose to move in their heaven of freedom with abundance of food. Guruma overlooks activities here including the mass tree plantation project that Dr. Shivanand initiated, where thousands of trees were planted here by Shiv Yog sadhaks.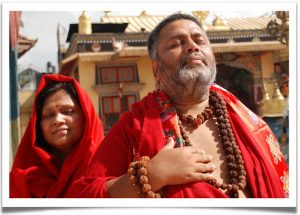 Both Dr. Shivanand and Guruma have never stopped for a day in these activities and now with more sadhaks joining the team, they continue overlooking the activities, but still taking time often to visit orphanages, old age homes, and goshala still finding time to personally monitor or deliver things with their own hands, leading a perfect example of the joy derived from these acts of compassion and unconditional love.
Moreover, both have blessed many sadhaks worldwide through the workshops (shivirs) of Dr. Shivanand. He and Guruma now grace workshops that are totally free for the benefit of the masses and their spiritual and worldly evolution. Both can be seen together most of the time in almost all activities they have initiated for the creation, caring and sharing with each other an eternal bond of unconditional love, thus providing every seeker with a true example of a successful spiritual grihasth (householder) life.
On the recent anniversary, Guruma in one of her moments with a handful of people around her was asked to say something and she said with a wide smile, "I wouldn't mind re-living my entire life again, if I had to… every bit of it… it has been that wonderful."