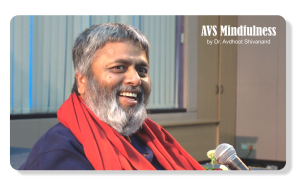 AVS science of mindfulness has come from the ancient shivyog practices of raising consciousness which is the pre religion phenomenon. The sciences of mindfulness has been developed scientifically for the masses from the ancient wisdom of the yogis.
Avdhoot Shivanand is a siddha of ancient shivyog lineage who has scientifically worked in the field of health and introduced a new dimension to compliment state of art allopathic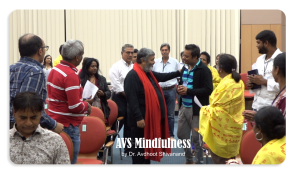 medicine as the integrative cosmic medicine (ICM), which has given a great contribution and hope in the treatment of every disease. AVS ICM protocol is been practiced by the doctors in many countries as an integrative approach to the allopathic medicine for enhancing the clinical outcomes. The AVS protocol comes from the same ancient wisdom and higher yogic practices by ancient yogis. ICM modules are routinely implemented by many doctors in multiple countries with significant-measurable clinical outcome improvements in chronic care disease management. He has coined beautiful phrases like "CURE IS POSSIBLE" and "SCIENCE BEYOND SCIENCE"
"ACUTE STRESS LEADS TO CHRONIC STRESS, CHRONIC STRESS LEADS TO NEGATIVE PSYCHIC IMPRESSIONS NEGATIVE PSYCHIC IMPRESSIONS LEADS TO  NCD (NON COMMUNICABLE DISEASES)  NCD LEADS TO LIMITING BELIEF"

Dr. Avdhoot Shivanand
These phrases are used by physicians for improving their patient's behavior towards their health condition. Clinical outcomes are noted to show measurable improvements once integrative cosmic medicine practices are combined with contemporary medical practices Root cause of all Non communicable diseases (NCD) has been stress. Avdhoot Shivanand has invented and recently introduced AVS Mindfulness course for distressing all global citizens
90% OF THE DISEASES STARTS FROM STRESS !
AVS Mindfulness Seminar Result (Post Seminar Survey)
96% participants found the AVS Mindfulness Meditations to be highly effective !
72% participants dropped their stress levels immediately post the meditation sessions ! 
61% participants claimed to have their stress levels reduced by 76%-100% during seminar !
71% participants claimed to have their sleep improved by 76%-100% during seminar !
58 % participants claimed their productivity increased by 76% – 100% during seminar !
UPCOMING SEMINAR

KENYA 26TH FEBRUARY TO 4TH MARCH, 2018

MAURITIUS 23TH TO 28TH MARCH, 2018 (Registration Opening soon)

MAURITIUS 29TH TO 3RD MARCH, 2018 (ADVANCE) (Registration Opening soon)
REGISTER TODAY